Photographer wins 'monkey selfie' legal battle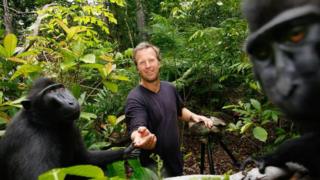 A photographer has gained a two-12 months prison combat against an animal rights neighborhood over a "monkey selfie" photograph.
Naruto the macaque monkey took the graphic within the Indonesian jungle in 2011 when it picked up a camera owned by means of David Slater from Monmouthshire.
US judges had said copyright coverage couldn't be utilized to the monkey but Peta referred to the animal may still advantage.
Peta's appeal on the "monkey's behalf" was disregarded but Mr Slater has agreed to donate 25% of any future earnings.
In a joint statement from Peta and Mr Slater, it noted the photographer will supply a quarter of the money he receives from selling the monkey selfies to registered charities "committed to holding the welfare or habitat of Naruto".
"Peta's groundbreaking case sparked a large foreign discussion concerning the deserve to lengthen primary rights to animals for their own sake, now not in relation to how they will also be exploited by way of humans," pointed out Peta legal professional Jeff Kerr.
Mr Slater, of Chepstow, mentioned he put in loads of effort which turned into more than adequate for him to claim copyright.
He additionally spoke of he was a conservationist and pastime within the image had already helped animals in Indonesia.
The case was listed as "Naruto v David Slater" but the identity of the monkey had additionally been in dispute, with Peta claiming it's a feminine known as Naruto and Mr Slater saying it's a distinct male macaque.
but appeal judges at a courtroom in San Francisco dominated in Mr Slater's favour after a two-12 months felony battle.
within the joint-statement between Peta and Mr Slater, they say this case "raises critical, chopping-aspect issues about expanding felony rights for non-human animals".
http://c.files.bbci.co.uk/126AC/production/_87563457_231fe8a0-020e-4b60-84b7-0fca26a1623c.jpg
BBC News – Technology